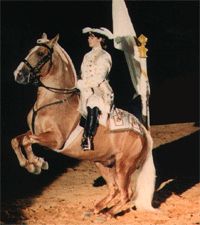 The Symposium Social Dinner will take place on Tuesday May 13th at the "Lezíria Grande" Riding Center, located at about 25 km North of Lisbon.

Buses will take the participants from Lisbon to "Leziria Grande". After arrival an aperitif will be served, followed by an equestrian show in the riding hall - were the stars will be Lusitanos horses - and then a seated dinner.

The trip back to LNEC and Campo Pequeno will be again by bus.

The departure from Lisbon to "Leziria Grande" will be around 6:00 pm (to be confirmed later on). It is expected to arrive at Lisbon at about 10:30 pm.
CENTRO EQUESTRE DA LEZÍRIA GRANDE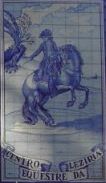 The
Lezíria Grande
Riding Centre was created and dedicated to the horse, the riding school based on the work of the Marquis of Marialva and related activities.
The location was built and planned combining the riding school with the natural beauty of the
Leziria
(name of the fertile plain through which the Tagus runs). The riding centre took its name from the floodplain, and the
Lezíria Grande
Riding Centre offers tourists the natural beauty of the setting, the horses, typical cuisine and the delicious local wines. The highlight of every entertainment is the Equestrian show, giving displays of High School where the potential of the
Lusitano
horse can be highlighted.
At the Riding Centre a number of different breeds of horses can be seen, however the
Lusitano
horse features most predominantly. The original characteristics of the
Lusitano
horse, which includes its great courage and obedience to the rider combined with agility and a unique ability to go down on the haunches and remain in balance, all of which makes it invaluable in bull fighting, have been preserved here.
The traditions and costumes of the 18c are to be seen here, and this includes the harness and above all the horsemanship practiced at that time, the golden age of the art of riding.
Through the efforts of a few individuals this horsemanship and tradition has survived, and influenced the way of riding in Portugal. This represents a very special and unusual equestrian heritage in terms of the teaching of the art of riding, which has such a brilliant reputation in Portugal.
For more information visit http://www.celg.pt
Driving directions from Lisbon
By car, follow A1 high-way (direction Oporto) and take the exit "Vila Franca de Xira" at km 25. After the toll booths, bear right toward "Carregado" (road N1). After 500m you will then see, on the left, a blue sign that says "Leziria Grande". This access is 200m after a "Repsol" gas station that stands on the right of the road.
Click
here
to go to "coordinates and map" page .